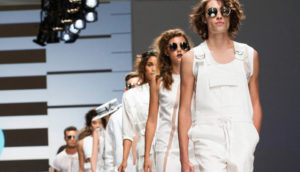 Know about FashioNXT and the Options it Offers for your Brand or Entity:
.
.
Brand Participation at the Annual FashioNXT Week
Join us in the 10th Anniversary of FashioNXT Week, Oct 5-7. 2023.
The annual show premieres collections in a production that TIME Magazine lists #1 in the US outside NY FW.
Portland Mayor recognizes it as the city's official fashion week.
Extraordinary designers from all over the US and internationally come to Portland,
a leading-edge creative and commerce center, to showcase what's next in fashion and fashion-tech.
.
Brand Opportunities at FashioNXT Week
.
.  Bridal Show    .  StreetWear Show 
.  Fashion-Tech Opportunities  at FashioNXT
__
Contact Form to Show at FashioNXT Week
.
Contact us to Sponsor or with Questions
.
---
FashioNXT Promo Videos
[] FashioNXT Week Promo Video: Designer Gustavo Apiti & Lunaversoul
[] FashioNXT Week Video: Designer Mondo Guerra
[] FashioNXT Week Promo Video>>
[] Premiering World's First 3D Printed RTW Designers Shoe Collection>>
[] FashioNXT Week 2016 Promotional Video >>
[]  FashioNXT Week 2015 Promotional Video >>
[] FashioNXT Week 2014 Promotional Video >>
[] FashioNXT Week 2013 Promotional Video>>
——————————————————–