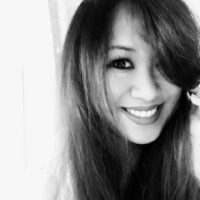 Designer Tila Hanthaley is a lifelong artist, with the ability to spin dreams into fabric, along with virtually every other medium. Not content with merely reproducing the image, but also the connotations, Tila H. weaves her inner experiences into truly evocative, timeless fashions.
Tila Hanthaley departed her hometown of Portland, Or. to pursue a career in Fashion and Design. Decamping for sunny Los Angeles in 1999, to attend the prestigious Fashion Institute of Design and Merchandising. She would go on to a vibrant career in Modern Design, working for a slew of the industry's biggest names, including Levi's, Project Social T, and Urban Outfitters, with her razor sharp Graphic  Tees and artistic sensibilities.
Despite her rampant success, Tila felt something was missing. Although she's thrived in the sunshine, Tila has always missed the mist and rain of her hometown of Portland.
With a new season comes fresh beginnings, and the return to Portland, Or. should mark a new beginning for Tila Hanthaley and the vintage charm of her fashion line Smoke & Rose.
See Smoke and Rose at FashioNXT 2017