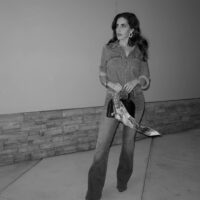 Nadine Makboul is a luxury and contemporary womenswear brand founded in 2018. 
The pleated blue coat is a couture-activewear garment that was inspired by Arabic and Japanese culture. 
The beaded skirt and peplum top came to fruition from the idea to design a look with the colors black, yellow, and green. 
2020 Collection
DESIGNER/CONCEPT/FEATURING: Nadine Makboul
PLEATING: Collaboration with CHANEL Maison Lemariè – Lognon
DIRECTOR/CHOREOGRAPHER: Nicolette Gonzales/Hayden Sahli
PHOTOGRAPHER: Hayden Sahli
MAKE-UP: Nicolette Gonzales
HAIR: Zachary Sevier
HEAD PIECES/GLOVES: Etsy/David's Bridal
Past Collections
COLLECTION NAME: The Prince of the Afternoon
DESIGNER/CONCEPT/FEATURING: Nadine Makboul
PHOTOGRAPHER: Autumn Christine Photography
MAKE-UP: Nicolette Gonzales
HAIR: Avery Lemons
MODELS: Code & Nora Janowski (Reaction Models)
FLOWERS: M&S Schmalberg (Outsourced)