Interview with 2020 Mask Design Competition Winner, Anna Bartoletti
Prasenjit Tito Chowdhury
What inspired you to participate in the 2020 FashioNXT Mask Design Competition?
I was inspired to participate in the Face Mask Competition for many reasons.  I really loved the idea of pushing the design limits on something so simple as a face mask.  I really challenged myself to think outside of the box (which is what I love about designing and being an artist), and that led me to the idea of designing masks that had meaning behind them and a voice, instead of just a cool design.  I also loved being able to participate in raising funds for Covid research and having my designs have an even greater purpose behind them!
I have been following FashioNXT for a while now.  I love how they support independent designers and give them a platform to be seen.  Independent designers are so important right now more than ever, with the climate we are currently living in.  They represent the real people and artists of our time that might not get a chance to be discovered, heard, and seen.  With the whole world focused on everything being web-based and online right now, because in person is so difficult with the pandemic going on, it is more important than ever for independent designers and small businesses to be seen. Our economy depends on small businesses and we have to make sure the focus is on them right now as they are the ones that need help. 

Describe your design process for this design?
The inspiration behind my mask designs for this competition was based on my research and fascination with the Spanish flu pandemic of 1918.  I was drawn to the similarities of the people who lived over 100 years ago and our lives today.  Looking thru old photos from 1918, I was surprised at how the people suddenly looked modern to me. I loved reading the stories and old letters that were suddenly sought after by people digging through old family memorabilia and found by family members who had an ancestor who was alive at that time. I was amazed at how so many aspects repeated themselves, and how many of the same concerns we have today, they also had back then.  While there are so many people today that willingly wear facemasks, there are also many people who do not.  Even back in 1918, they formed an "anti-mask League" as there were many people that resisted being told they had to wear a mask, people were arrested for not wearing a mask, and schools, movie houses, and pretty much everything was closed down, just like today.
I designed 3 masks for the FashioNXT competition. I first started designing my "Full Circle" mask design, where I printed on fabric pictures of old posters, photos of people living at that time wearing their masks, and news articles from the Spanish Flu Pandemic, even a photo from the "Anti-Mask League". I also hand embroidered a long windy line and arrows that connect the years 1918 to 2020 as I believe we have come full circle. The shape of this mask is very abstract, avant-garde, with a long pointy, comical, in your face look.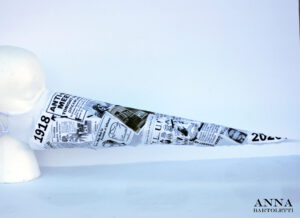 The second mask I designed was titled "Wear a Mask or Go To Jail".  I was inspired by an old photo from the 1918 pandemic and wanted to create a mask that also mimicked an actual flat "sign" to wear on the face.  It's a fun, whimsical, yet shocking and thought-provoking play on the seriousness of our world today. It is not meant to be literal, but to be a point of departure for discussion and awareness of what our world alternately could look like. The words "Wear a Mask or Go To Jail" are printed on 100% cotton, which is what I use to make all my masks out of.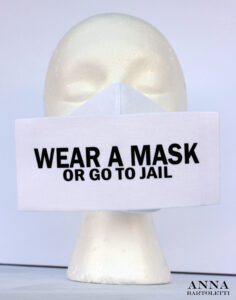 The third mask I made was titled, "Words of 2020".  This mask was a modern take on our world today. It has a traditional design, much like the thousands of masks I have made to donate to healthcare workers earlier in the year when there was a shortage of PPE. It is a white cotton mask with an innocence brought to it with black scalloped trim.  It's meant to look innocent but juxtaposed with the hand-embroidered harsh words of the reality of what we are going through today, such as Black Lives Matter, Protests, Death, Pandemic, Politics. This mask took 3 days to hand embroider.  All the words are embroidered in black while a cross, daisy, and heart are embroidered in color to represent that in all the darkness of the world today, there is hope and we can get through it all with faith, love, and kindness to each other.  It also includes Biden on the left, Trump on the right.  I also added Jumanji and Bingo Board, as many times I heard people using these words to refer to the crazy and unpredictability of this year, yet trying to get through it all with laughter. There are many more words I wanted to include but tried to keep it to just the things that are unique to the year we are in right now.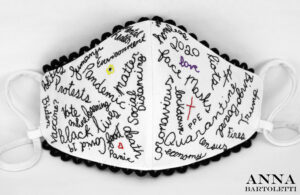 Your masks display a strong social message, as does the concept of this mask competition raising social awareness of the importance of masks through fashion. Why do you see this as an important message to convey to the FashioNXT audience? 
I think it's important to really see where we are right now, to appreciate it all in its uniqueness, the good and the bad, but also have hope that we are not going to be stuck here forever.  We will get through it all with faith, love, and kindness to one another. We all will come out stronger for it on the other end, and when we look back, we will see how far we have come and grown. In the meantime, let's make the most of it and have fun while being safe, wearing cool masks, and using them as another accessory to express ourselves with!
How would you describe your ideal client?  Is there a visionary man or woman that you are designing for?
I design it for Ophelia. She is between ages 25 to 40 and she loves art, fashion, vintage, history, appreciates small details, thinks about the environment, and likes to stand out from the crowd.  She lives in the city, loves to eat out with friends at the trendiest places, and either work in or appreciates the creative field.  She also loves supporting causes she believes in such as kindness, love, environment, animal welfare, helping people, and of course supporting small businesses because she believes in voting with her dollar 😉
As a designer, you are of course interested in fashion. But at what point in your life did you realize that you not only loved fashion but had something to offer fashion?
When I was little I was obsessed with playing with my mom's Barbie dolls, the original ones from the 1950s!  I loved to play dress-up with them, constantly changing their outfits and making my own outfits for them with whatever I could find around the house (I still have these but they are a little beat up now, haha). When I was in high school I always loved to dress differently than everyone else and then noticed other people would start wearing things how I would. So then I would go on to a different look, and then it would happen again and again.  My parents had put me in art school when I was 13 because I always carried around an art pad and pencil and would draw everything and anything, everywhere I would go. I was always very creative and had a strong eye for detail.  I originally wanted to be an artist, but after taking a Fashion Design class in high school I realized that it was possible to have a career as a designer where I could do both, create art and play around with clothes!  And to this day I still approach fashion from an artistic point of view and as a way to express myself creatively: fashion as art. After high school, I auditioned and was accepted into The Fashion Institute of Technology in New York City, one of the top fashion colleges in our country. I originally started studying the business of Fashion, but after my first big assignments in one of my business classes, where I kinda went all out in the design of it all, lol, my teacher told me I was in the wrong major and I needed to immediately switch to Fashion Design, lol.  I think I finally realized that I had something to offer in Fashion after I was one of only 6 other designers selected out of all the students at FIT to be paired with a CFDA designer in what was called the Master Apprentice Program.  We were each paired with a different designer based on what our design aesthetic was, and I was so excited to be paired with one of my favorite designers, Betsey Johnson!  After working together with her to create coordinating garments to go down the runway together at NY Fashion week to promote recycled fabric (which at the time was very new), I was so inspired!  She told me I was very talented and those words of encouragement and time with her have always been something that I will treasure forever.
What would you say helped you the most to transform into the winner?
I'm not sure, I think all the designers did an amazing job and it was so cool to see how everyone had a different approach to their designs!  I think my approach was different in that I really wanted my designs to stand out and to have a voice and a strong meaning behind them.
What are your plans for the coming year?
I plan on continuing to work hard and pushing myself creatively as a designer. Sustainability is really important to me and I plan on continuing my "no waste" approach to my business as well as incorporating more recycled materials. I have 2 collections I am currently working on, one being a fully sustainable recycled line, as well as my website, private clients, and a few other creative endeavors.
As part of the prize you are awarded a discounted booth for 2021, what are your plans for your booth?  What can we expect to see in the coming year?
I am currently working on designing a line expanding my original inspiration from my winning face masks and transforming that into clothing.
How would you describe your typical designs for a client?
My typical designs for clients depend on what they are looking for.  I do a lot of dresses, dance and stage costumes, wedding dresses and various other separates.  I try to balance what the needs of the client are and my own voice as a designer. The most important thing to me is to make sure my clients are happy and really love their garment, and that it is well made.  It is the best feeling in the world to see a client that is very happy wearing a garment that I designed and made.
Tell me about your creative process and what that looks like for you.  Where do you draw inspiration from and how do you begin to process inspiration into your physical work?
I know it sounds cliche, but I really do find inspiration everywhere! I'm very detail-oriented, so the smallest thing can inspire a whole collection or just an interesting seam. I love fabric, I use only vegan fabrics and materials, and I love mixing together things that might not usually go together. When I start designing a collection, I start with an inspiration and let that guide me.  I usually start with a sketch or an idea and make a mood board.  From there I will research and find fabric, usually trusting my instinct and if I get butterflies in my stomach, then I know I'm on the right track, lol…I usually also include my favorite things I am drawn to in every collection, such as texture, history, a sense of quirkiness, pushing the artistic line and a few elements of a personal touch or hand made quality.  I am especially drawn to anything vintage.  I could spend hours looking at old photos from 100 years ago and imagining what those people were like, what they were thinking, and what would it be like to live back then.  I also think a lot about the future and how I can learn and evolve as a designer, pushing the boundaries to meet the needs of the future of fashion.
As we all know, fashion is such a competitive industry with so many different designers and artistic visionaries.  How did you come into your own as a creator and as a designer?  Do you feel you have found your voice?
I feel like fashion, as well as other art forms, is always evolving.  I'm not sure I will ever be completely satisfied in finding my voice as our world is constantly changing and I will change and adapt too, and that is all part of the fun of it, right?!!
Are there any new goals that you are looking towards in your career moving forward?
If we ever get back to normal I would really love to have a fashion show. However, I feel like our industry, as well as everything else, might not get back to the normal we used to know for quite a while.  I would love to continue to explore other options in addition to the runway to express my vision such as video productions, which I believe is going to be the new norm for designers. I am also looking to expand my business with more staff, interns, and currently looking into a new studio space.