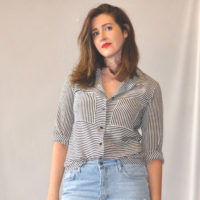 Debut collection, "Wonder"
From fashion designer Sarah Donofrio comes the new label One Imaginary Girl, debuting for Spring 2017.  An indirect yet obvious reference to the music that has driven her creative career, One Imaginary Girl is a wearable label with no commercial restrictions.  Taking the focus away from saleability, and replacing it with unabashed creativity and newness, the line represents a forward yet  interpretive point of view, driven by the great style venturers of the past.
Inspired by the power of experimentation, elevation and relocation, her Spring 2017 collection,Wonder, is a vivid return to the runway.  Wonder is about taking her great influences-mainly strong, female icons of the first new-wave era, and adding a breath of fresh and forward air.  These icons took risks, with confidence, and Wonder is about getting into their forward and individual state of mind—a self expression that was not orchestrated or contrived.
This season, One Imaginary Girl is taking primary colors to the extraordinary via texture and pattern play.  The original geometric textile prints are echoed in hand sewn plastic appliqués, adding more sheer yet 3D layers to the pieces.  With the addition of upcycled records,  Sarah has literally woven her love of music into the collection.
After a year of development and refocusing on where she wants to go with design, Sarah returned, 3000 miles away—physically and mentally—to bring a  bright and unconventional collection to launch stateside.
One Imaginary Girl is an unpredictable yet relevant trip to a new era, and Wonder is the first stop that will set the stage for the state of things to come.
See Sarah at FashioNXT 2016
Sorry, no posts matched your criteria.