Interview with 2018 UpNXT Winner, Alejandra Oyervides On Her Upcoming Fashion Brand, Ale O
Interview Conducted By Kyle Sosa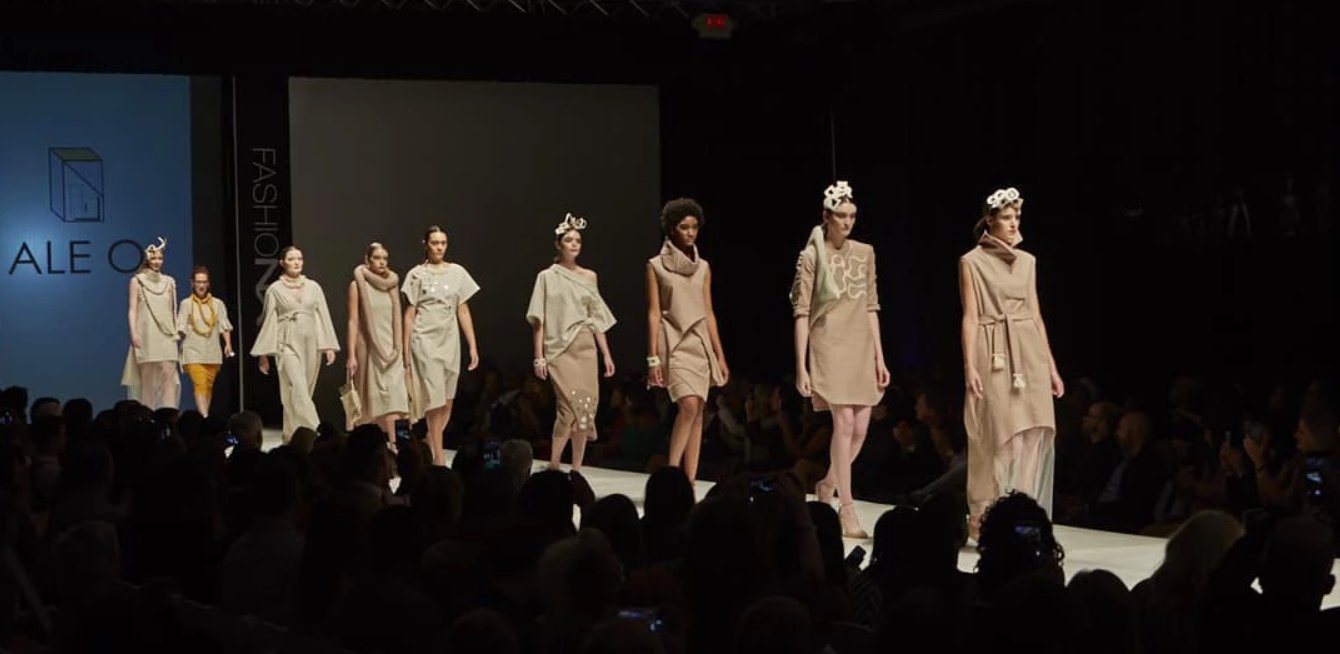 Good afternoon, Ale.  Congratulations on being a 2018 UpNXT winner.  Tell me what you enjoyed about UpNXT the most?  How was your experience?
ALE: As a new designer, I had the opportunity to learn more about the industry.  I had the opportunity to present my collection in front of many different people who do not know me as a designer.  Watching the models wear my designs on the runway was a dream come true.  Walking with them and waving to the cheering crowd was such a fulfilling moment.  It is a lot of work to prepare for a show.  I now understand what it takes to not only create, but also share a collection.  I am still learning what it takes to sell my designs.
How were the UpNXT facilitated mentorships, classes, and business meetings helpful for you as an emerging designer?
ALE: I participated in all of the classes and met with the mentors and designers.  As for business meetings, I met with my advisor through the Business Outreach Program at Portland State University.  Some of the advice that I found most helpful was about how to focus strategic marketing efforts.  I believe that to be a successful business owner, I need to continuously learn.  I appreciated the exposure to new ideas, to the other participants, and am always open to more support as a female, Latina entrepreneur.
What would you say has been most useful from these tools given during UpNXT?
ALE: The tools and experience gave me the hope and confidence that people could see and appreciate my creativity.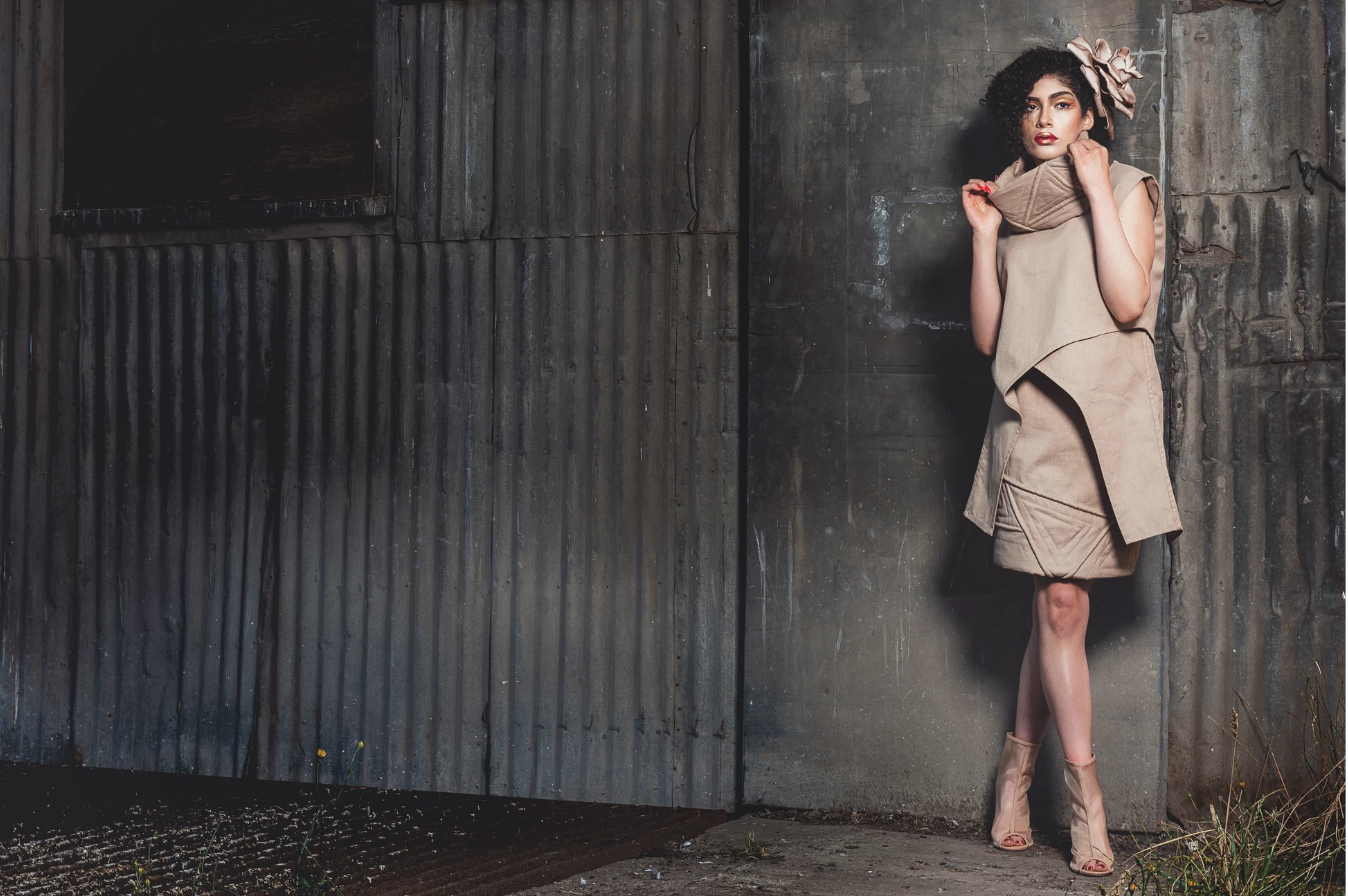 Much of your show incorporated geometric patterns with a neutral color palette.  Tell me, who is the Ale O customer?
ALE: We specialize in exciting wear for aspiring urban females who seek quality fashion with unique designs.  Ale O's clothing and accessories for modern women are designed to make them feel relaxed and beautiful, therefore, confident and self empowered.  I focused on a neutral color palette to highlight being simple and natural.  Most of my styles are loose fitting, so women can feel comfortable.  The collection is a mixture of Mexican and Japanese styles.  The Mexican style of Huipil is simple, natural, and has basic lines.  When creating, many Japanese designers consider the body, the space, and then the garment.
As a designer, you are of course interested in fashion.  But at what point in your life did you realize that you not only loved fashion, but had something to offer fashion?
ALE: Since I was a teenager in Mexico, I have loved fashion and took some classes. When I had my first daughter in the United States and started creating fashion hats for children, people started to not only tell me that I had talent, but would buy my hats. However, it wasn't until two years ago that I began to take classes at the Portland Fashion Institute through an RACC grant, when I learned the tools that I needed in order to start designer for higher level fashion.  As I created, I began to receive a lot of positive feedback that helped me realize that others valued my work as well.
As we all know, fashion is such a competitive industry with so many different designers and artistic visionaries. How did you come into your own as a designer? Do you feel you have found your voice?
ALE: I am still coming into my own and also have a lifetime of experiences that I feel called to share through my own lens of creativity.  Thus far, the minimalistic and geometric designs are part of my creations. I wish I could tell you that my designs will always be this way, but I know that the inspiration for my collections will come from a changing world.
Tell me about your creative process and what that looks like for you. Where do you draw inspiration from and how do you begin to process inspiration into your physical work?
ALE: Currently, my biggest inspiration is women. To see how women move throughout the day and all of the things they do. I want women to be comfortable and stylish amidst all that happens. When I am starting to think about creating a new line, I do a lot of research into new trends to inspire my own creativity.
I have found that many designers have an ideal visionary woman that they are designing for each collection. Who is that woman for you?
ALE: The truth is that I design for a number of different types of people, all of whom want to be comfortable in their clothes. Three of the types could be described through the following women: Iris Apfel, Oprah Winfrey, and Nicoletta Ceccoli.
How would you describe your typical designs for a client?
ALE: Simple, natural, geometrical, spacious, beautiful.
As part of the prize for winning UpNXT, you are awarded a show for 2019 FashioNXT Week. What is inspiring you for your next collection? What can we expect to see this upcoming October? Are neutral colors solely who you are as a designer, or would you ever experiment with color?
ALE: As for color, I definitely prefer solid, simple, natural colors. That being said, October is a long ways away and anything can happen during that time to influence the collection. I don't want to ruin the surprise.
Are there any new goals that you are striving for in your career after being a 2018 UpNXT winner?
ALE: I have many goals, but here are just a few. I would like to be in more fashion shows and grow my brand enough to help the environment, support workers rights and fair wages, and increase awareness of sustainable materials and the possibility of a slow fashion industry.